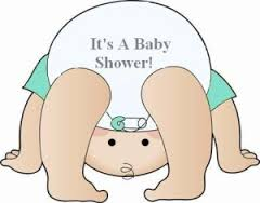 The United Methodist Women (UMW) of First Church will host a Baby Shower on Saturday, April 29, in support of the Capital Area Pregnancy Center in Harrisburg.
All area women are invited to join us from 10 a.m. to noon for snacks, games, and prizes. Judy Cline, director of operations for the Pregnancy Center, will be the guest speaker.
In addition, we will collect baby items (see list below) to be blessed and donated to the Center.
For more information, contact Janice Bowen (wecare@fumchurch.com or 766-4611 x112) or Dawn Fisher (kidscount@fumc.com or 766-4611 x102).
Donations of the following items are needed.
Sleepers – Newborn – 12 month
Clothing – Newborn – 12 month
Newborn hand covers
Swaddle blankets
Receiving blankets
Infant gowns
Infant sacks
Onesies with mittens – Newborn – 3 month
Regular onesies – Newborn – 12 month
Wash cloths
Hooded towels
Crib Sheets
Baby wash
Baby lotion
Wipes (not bulk boxes)
Diapers – Newborn, size 3, 4, & 5
Newborn toys