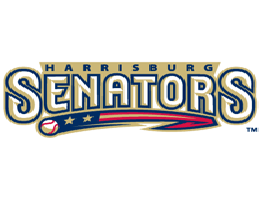 First Church will host a picnic and outing to the Harrisburg Senators baseball game on Saturday, June 10.
Join us for a buffet-style picnic at 4:30 p.m., followed by the game at 6:00 p.m. The buffet, open until 4:30 p.m., will include hot dogs, hamburgers, BBQ chicken, baked beans, potato salad, mac & cheese, chips, popcorn, cookies, soda and water.
June 10 is "Faith Day" at the Senators. Enjoy a pre-game concert by Seven from Messiah College and a postgame concert by True Heart.
Take advantage of a special discounted rate – only $20 for adults (ages 13 and up) and $10 for children ages 4 to 12 (kids 3 and under are free). This includes the lunch and game ticket.
All are welcome to attend, but you must pre-register and pre-pay by May 28. See the sign-up sheet at the church Welcome Desk, or call or e-mail Tina Eaton, Director of Adult Ministry, at (717) 766-4611 or adultministry@fumchurch.com.