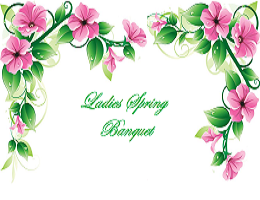 All women and children are invited to attend the Ladies Spring Banquet at First Church on Saturday, May 13, 2017, beginning at 5:30 p.m. in Fellowship Hall.
The meal, which will be prepared by First Church member Steve Trace, will include chilled fruit soup, rotisserie chicken, scalloped potatoes, green beans, dinner rolls, and sheet cake for dessert. Chicken nuggets, apple sauce and some fun potato sides will be available for kids. Entertainment will be provided following dinner.
Tickets are $9 for adults, and $6 for children ages 3 to 12. Children under age 3 are free. Proceeds will benefit a youth mission trip to Alaska this summer.
For tickets or more information, call or e-mail the church at (717) 766-4611 or office@fumchurch.com.