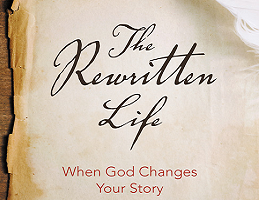 First Church will offer "The Rewritten Life: When God Changes Your Story." This new six-week Bible study explores the transformational power of God through the stories of people in the Bible whose lives were changed forever by Him.
In six lessons you will meet Abraham and Sarah, Jacob, Naomi, Daniel, Peter and an unnamed woman. Discover how God rewrote their stories, giving them new identities that were in line with God's call in their lives.
The group will meet on Wednesdays at 6:45 p.m. beginning June 7.
The Bible study is open to the public. You do not have to be a member of First Church or any church to participate.
Books are $10. For more information, call or e-mail the church at (717) 766-4611 or office@fumchurch.com.