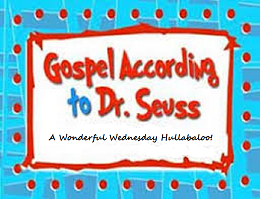 Children ages three through sixth grade and their families are invited to attend the fall session of the Wonderful Wednesday family fellowship program.
This year's curriculum is "The Gospel According to Dr. Seuss."
"The stories of one of the world's most beloved children's authors are both imaginative and entertaining. But a
closer look at Dr. Seuss's stories reveals that many are also inspirational. In this accessible and immensely
enjoyable resource, Kemp finds parallels between the actions of cats in hats, Grinches, Snitches, Sneetchas and
other "creachas" with the lessons found in Scripture. Each reflection begins with an insightful biblical passage
and features lines from the original Dr. Seuss book. Thus, as the author shares his enthusiasm for the creativity
and wisdom of Dr. Seuss, both the meaning and relevance of many Bible passages come to life."
Review from
Christianbook.com.
This unique program, held weekly on Wednesdays, provides a family-style diner, Bible study and fun activities for children, and allows families to spend quality time together. The fall session starts on October 18 and runs through December 6. The program lasts from 4:30 to 7:00 p.m. 
Non-church members are welcome to attend, but all participants must be pre-registered. The cost is $15 per child, per semester, which includes meals.  Click here to download a registration form.

For more information, call or e-mail the church office at (717) 766-4611 or office@fumchurch.com.