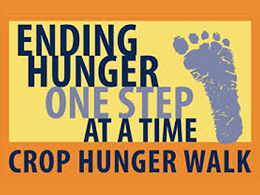 First Church will participate in the Annual Mechanicsburg CROP Hunger Walk on Sunday, Oct. 22.
All walkers will meet at the Mechanicsburg Church of the Brethren at 1 p.m. The walk begins at 1:30 p.m. Participants can choose either a 2- or 4-mile walk. Proceeds benefit local residents in need.
All are welcome to walk with us! For more information, call or e-mail the church office at (717) 766-4611 or office@fumchurch.com.