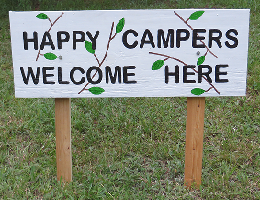 Just a reminder – if you wish to register for church camp and take advantage of the early bird price, the deadline is May 1!
First Church firmly believes in the benefits of a church camp experience. Set in beautiful woods and natural surroundings, camp provides a distraction from video games, television and the general rushed pace of life. Away from these distractions, campers can take many steps in their faith journey and build a closer relationship with God.
Camp sessions are offered at several locations. Check out www.susumcamps.org for more details, or pick up a camp brochure from the Camping Display in the First Church main lobby.
Students in kindergarten to sixth grades can attend one or more camp sessions. Most sessions last a week. Mini-sessions of three days are available for new campers.
Fees vary based on the camp session. Scholarships are available, and First Church will help sponsor children and youth from our congregation who wish to attend. For more information, call the church at (717) 766-4611.