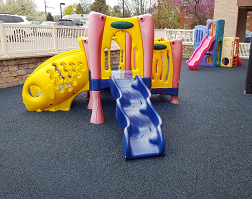 First Church will hold a ribbon-cutting ceremony on Wednesday, May 10 at 10 a.m., to celebrate its newly-refurbished playground. All are welcome to attend.
The playground previously contained a mulch base. The mulch was removed, and replaced with a handicapped-accessible rubber surface.
The project was inspired by Roland, a three-year-old who attends the church's Little Friends Nursery School. Roland has cerebral palsy, and is a wheelchair user. The mulch base was challenging for Roland to navigate in his wheelchair.
First Church is also celebrating the addition of a Friendship Bench to the playground. Any child who is feeling sad, lonely, hurt or just in need of company can sit on the bench as an invitation for a friend or teacher to approach.
Nearly $20,000 was raised to complete the project, through the efforts of Roland's family and with support from the church. Money was raised through donations from Little Friends families and teachers and members of the community, and support from the following: Community Aid, DeTraglia Excavating, Mechanicsburg Elks Club, Drayer Physical Therapy, Capital Area Intermediate Unit, LuLaRoe, Methodist Health Ministry, and the First Church Helping Hands Sunday School Class.