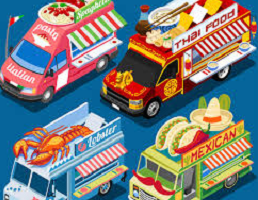 The Third Friday Food Truck Feast rolls into the First Church parking lot again on June 15, from 5 to 9 p.m.
An expected six to eight trucks will be pulling in with a variety of foods. Confirmed vendors so far include Mad Sandwiches, Mad Dash, Chicken Truck, Bountiful Feast, Up in Smoke, The Sweet Spot, and Ice Cream Express.
In addition to good food and music, the event offers a fun time to meet and socialize with other community members. First Church will provide tables and chairs, and free parking including handicapped accessible parking.
Food Trucks are scheduled for the following additional Fridays in 2018: July 20, Aug. 17, Sept. 21 and Oct. 19.
Check out the Facebook page at First United Methodist Church of Mechanicsburg, Pa. for details, and an updated list of food trucks for each event.