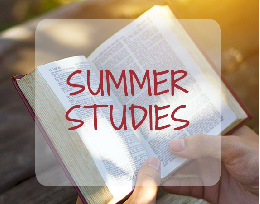 Summer is a great time to get into God's Word and seek new ways to grow in your faith. But, summer schedules can make it challenging to commit to an extended study.
That's why First Church is offering multiple and flexible options.
Wednesday Drop in! All are welcome to join Pastor Denny's Bible study class, based on the 2018 daily Bible reading plan, any Wednesday from June 20 to July 25. The class meets from 6:45 to 8:00 p.m. If you haven't already, visit the "Be One, Make One" display in the church lobby, pick up a Common English Bible with the companion daily reading plan and begin reading!
Read a good book! Order a copy of Growing Young: 6 Essential Strategies to Help Young People Love Your Church, begin reading and join in a discussion group lead by church staff members. The group will meet on Wednesday evenings from June 20 to July 25 from 6:45 to 8:00 p.m. The book, based on research done by the Fuller Youth Institute, documents what the "bright spot" congregations they studied all have in common that helps them to reach young adults ages 18 to 29. Come to participate in creating a plan to ensure First Church's vitally in this area. Sign up for this discussion group at the display in the church lobby and order your book today at https://fulleryouthinstitute.org/growingyoung.
Study online! Lifeway Women is offering an online Bible study perfect for busy women. God of Creation, a 10-week study based on Genesis 1-11 by Jen Wilkin, begins June 21. You will learn fundamental truths about God and yourself. Participants will need to order a workbook ($12.99) and register to receive the video teachings (free) at
https://blog.lifeway.com/womenallaccess/2018/05/15/god-of-creation-online-bible-study-sign-up/?ecid=PDM122947&bid=1575961899.