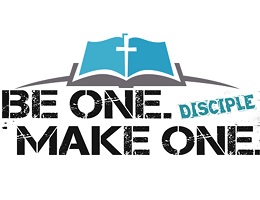 First Church continues with the "Be One, Make One" discipleship challenge this summer with a focus on Dedicated Missionaries.
Dedicated Missionaries demonstrate God's love for all people as we actively seek and respond to the needs of others. Here are some faithful steps you can take on the pathway toward living this lifestyle.
Prayer – Pray beyond the boundaries of your home and your life. Try prayer walking this summer in your neighborhood, community or place of work. Praying for others as you walk will alert you to the ways that you might be able to demonstrate God's love in practical, tangible ways!
Care – As you demonstrate His love, you'll discover a growing sense of compassion and mission with God. You may be called to random acts of kindness, to work as part of a mission team, or to a specific service opportunity that aligns with what you have been feeling in your heart. Any and every way that you reach out to care for another counts!
Share – As you build relationships through prayer and care, be attentive to doors that open for you to communicate the Gospel. You'll find that God often gives you creative opportunities to share your faith and lead others to follow Jesus. Instead of dreading this, you'll find yourself following God's lead in a way that is authentic and sincere!