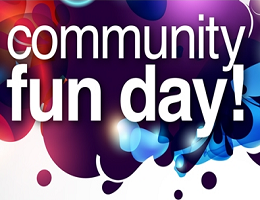 The Borough of Mechanicsburg will hold its third annual Community Day on Saturday, August 11 at Soldiers and Sailors Memorial Park, 1 Memorial Park Drive, Mechanicsburg from 10:00 a.m. to 4:00 p.m. This event is free and open to the public.
First Church is excited to collaborate with several area churches to sponsor free admission to the pool, along with children's activities including fun inflatable rides!
The event features music from local bands, fire trucks, Washington Fire Company chicken barbeque, food trucks, activities for all ages, and much more! Visitors will also be able to experience a special exhibition of a baseball game from the 1860's presented by the Keystone Baseball Club, complete with vintage uniforms.
Local business vendors and organizations will also be present at the event.
The event was created in an attempt to recreate a simpler time of life when families visited the local park to enjoy time together and be with others in the community.
New this year, a portion of the proceeds will benefit New Hope Ministries as the Charity of Choice. New Hope Ministries is a Christian social service agency that shows the love and hope of Christ by serving our neighbors in times of need and supporting their efforts towards stability.
For more information about the event, visit the Mechanicsburg Borough website at mechanicsburgborough.org/community-day. View Community Day flyer here.