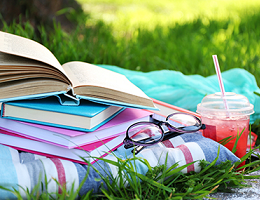 Did you know that First Church offers a library? It's packed with a variety of Christian-themed books, both fiction and non-fiction, including works from some of today's most popular authors. All are welcome to stop by and browse our shelves for some exciting summer reading.
Here's what new:
In The Love Letter, Rachel Hauck's latest book, actress Chloe Dashle accepts the lead role in an epic love story set during the Revolutionary War. The story is centered on a love letter Hamilton Lightfoot writes to Esther Longfellow on the night of a major battle in South Carolina. Hamilton is a patriot, and Esther's father is a staunch loyalist who vows his daughter will never marry a "rebel." Meanwhile, Jesse Gates isn't looking for anything beyond an actress to bring his script to life, but when he and Chloe begin to work together, chemistry and fireworks begin to crackle. Can either romance survive?
Justice Betrayed, the third book in the Memphis Cold Case mystery series by Patricia Bradley, has arrived. When Rachel Sloane, a cold case investigator, discovers a photo of her mother with four Elvis impersonators—two of which have been murdered – she decides there are some new leads to be followed in this unsolved murder case.
First Church always has a volunteer on hand to help you find just the right book! For more information, call or e-mail the church at (717) 766-4611 or office@fumchurch.com.