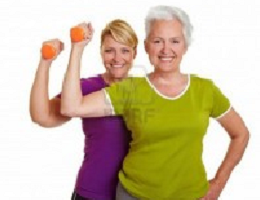 First Church, in cooperation with the Penn State Cooperative Extension, is pleased to announce the return of the StrongWomen fitness program this fall.
StrongWomen was designed for middle-aged and older women to increase their strength, bone density, balance and energy, and help them look and feel better. The program is based on years of research on how strength training and proper nutrition improve the health of women of all ages.
First Church will host the eight-week class on Mondays and Wednesdays, Sept. 17 to Nov. 14 (no classes Oct. 8 or 10), from 1 to 2 p.m.
You do not have to be a member of First Church or any church to join the class.
Registration opens Aug. 13, and will be limited to the first 15 registrants. The cost is $60. Registration is required, and paperwork will need to be completed to participate.  Participants age 70 and above must have a doctor's permission to participate.  Any questions, call the Penn State Extension office at 717-240-6500. 
Click here to register for the program.