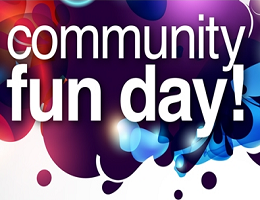 Visit First Church at the annual Mechanicsburg Community Day on Saturday, Aug. 11, 2018 at Memorial Park from 10 a.m. to 4 p.m. First Church, along with several other community churches are sponsoring free pool admission and the Children's Activity Area, which features three inflatable rides! Come see us at the inflatable rides and our table alongside the other vendor tables in front of the stage area.
The event will feature live music, food trucks, kids programming and more. Also, the Mechanicsburg Pool will be open free to the public.
For event details, visit www.mechanicsburgborough.org/community-day.