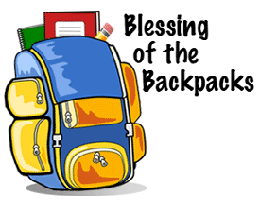 School aged children are invited to bring their backpacks to either the 8:15 or 10:45 a.m. worship service for a special blessing to be prayed over their backpacks. We will pray for a safe and wonderful school year and for all our students, teachers, school administrators and school support staff.
At 2:00 that same afternoon, you are invited to prayer walk the grounds of schools and pray for the students, teachers and staff as they start the new school year. Pastors from the community will be stationed at the main entrance of the following schools to lead the prayer:
Mechanicsburg High School,
Cumberland Valley High School,
Northern High School,
Mechanicsburg Middle School,
Elmwood Academy,
Upper Allen Elementary,
Shepherdstown Elementary,
Broad Street Elementary,
Northside Elementary and
Mechanicsburg Kindergarten Academy.