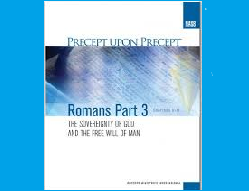 First Church will offer "The Sovereignty of God and the Free Will of Man," a Precept Bible study based on Romans, this fall. All are invited to participate.
God does not go back on His Promises. He can always be trusted. This study of Romans chapters 9 to 11 is an extended discussion of God's sovereignty – focusing on His choice of Israel and His faithfulness to His covenant.
The class begins with an orientation on Thursday, Aug. 30, followed by eight weeks of lessons. Two times are available. Participants can attend a morning session from 9:00 to 11:00, or an evening session from 6:45 to 8:30.
You do not have to be a member of First Church or of any church to attend the class. There is an $18 cost for the workbook.
To register for the class or for more information, call or e-mail First Church at 717.766.4611 or office@fumchurch.com.