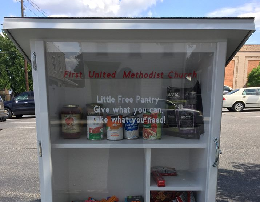 First Church is pleased to announce the creation of a Little Free Pantry on our church property.
The pantry provides a variety of canned and non-perishable food items. Residents can help themselves to food as needed. The church also invites the community to place donations in the pantry as you are able.
In 2013, two out of five American families visited a food bank. Many American cities are reporting that 30 percent of their population lives beneath the poverty line.
For more information on this initiative, visit the Little Free Pantry website at littlefreepantry.org. Or, contact Lori Hoffnagle, Director of Outreach, at outreach@fumchurch.com or 717-766-4611 ext. 115.
Thank you for helping us to serve our neighbors!