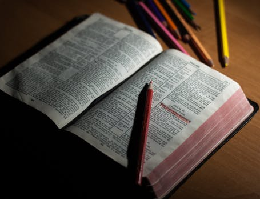 First Church invites you to join us on an adventure as we read through the Bible in 2019! Using a daily reading plan, each reading has been specifically selected to complement the church's sermon series schedule.
All are invited to participate. You do not have to be a member of First Church or any church to participate.
Our prayer is that as you read each day, you will grow closer to God and closer to one another in a way that helps you experience God's love, builds the body of Christ and enables us all to grow closer to our neighbors.
So find a cozy spot and dig into Scripture! Then come to worship each Sunday to hear the accompanying sermons and participate in a Bible study using this plan.
Free Bibles are available. Pick one up at the church's Welcome Center display.
See Winter 2019 Handout with all the information here.
For more information, call or e-mail First Church at 717.766.4611 or office@fumchurch.com.