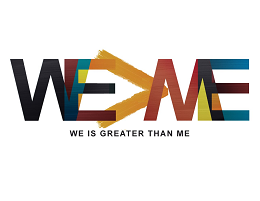 Looking for new ways to grow closer to Christ in 2019? First Church invites you to join us in the new year for worship, Bible study and prayer as we focus on our value to build deeper relationships with Christ, one another and our neighbors.
In January, the pastors of First Church will present the sermon series, "We > Me: Together We Can Do More." Join us as we discover that following Jesus is not about ME, but WE, and learn that, with the help of the Holy Spirit, imperfect people like us can build loving relationships that can change the world!
January 6 "For the Common Good" I Corinthians 12:1-11 (Click here to create your own Spiritual Gifts/Ministry Profile. If you prefer to complete the Spiritual Gifts survey on paper, you can  pick one up at the church or print a hard copy by clicking here.)
January 13 "Unique in Design, United in Purpose" I Corinthians 12:12-31a
January 20 "Love From God Through Us" I Corinthians 13:1-8a
January 27 "God's Not Finished with Us Yet" I Corinthians 13:8b-13
A daily Bible reading plan is available here to add depth to your understanding.
For more information, call or e-mail the church at 717.766.4611 or office@fumchurch.com.