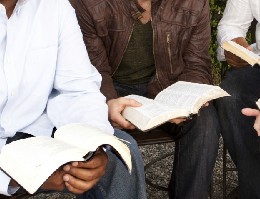 First Church is holding a men's Bible study on "Romans: Experiencing the Power of Life-Changing Faith." This study began in the fall and will resume meeting in January.
Using the inductive Bible study method, come to study Paul's words in the Book of Romans and learn what a transformed life looks like.
All are invited to participate. You do not have to be a member of First Church or any church to join the study.
The group, led by First Church member Ken Guise, meets on Sunday evenings from 6:15 to 7 p.m. Note: If you are interested in jumping into this study, please contact Ken Guise directly.
There is a cost of $9.99 for the workbook. For more information or to register, call or e-mail First Church at 717.766.4611 or office@fumchurch.com.