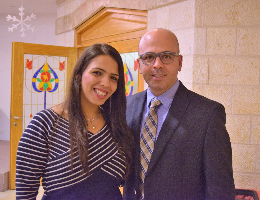 First Church will host speaker Michael Arteen, a missionary who serves in the city of Bethlehem in the Holy Land, on Tuesday, Feb. 5. The event begins at 7:00 p.m. It is free and open to the public.
Arteen is the official United Methodist General Board of Global Ministries' missionary to Bethlehem and serves at Bethlehem Bible College.
An Egyptian Christian, Arteen is married to Grace Zoughbi, a Palestinian Christian who teaches religion at Bethlehem Bible College. Michael and Grace are a dynamic young couple who share God's love with all they meet.
Read more about Michael here.