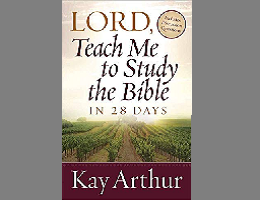 First church will offer "LORD, Teach Me to Study the Bible in 28 Days", an inductive Bible study by Kay Arthur, this spring.
This 4-week study will transform your life as you learn to mine the riches of God's Word. The workbook teaches readers how to study Scripture and specifically mark the text to unlock its meaning. It also provides hands-on practice with study methods like keyword searches, using context, identifying themes, metaphorical and literal phrases, and more to discern God's purpose and apply life–changing truths to everyday life
The study, led by First Church member Juanita Guise, will take place from March 21 to April 11. Participants can attend a morning session from 9 to 10:30, or an evening session from 6:45 to 8:30, both in the church Fellowship Hall. Childcare (for children 18 months and older) will be provided for the morning class, but pre-registration is required by March 15.
All are welcome! You do not have to be a member of First Church or any church to join the Bible study.
The cost is $5. For more information or to register, call or e-mail the church at 717.766.4611 or office@fumchurch.com.