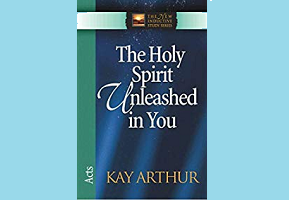 Do you want the power to witness for Christ in all circumstances? Join First Church for "The Holy Spirit Unleashed in You," a men's Bible study by Kay Arthur, based on the book of Acts.
Learn about miracles, boldness and having the courage to fully rely on the power of the Holy Spirit to preach the Word of God. The study uses the inductive Bible study method.
The group, led by First Church member Ken Guise, will meet weekly beginning March 31, from 6:15 to 7:15 p.m. in Room 207. The study runs for 13 weeks, and will be divided into semesters this spring and fall.
All are welcome! You do not have to be a member of First Church or any church to join the Bible study. The $9.99 cost covers the study book.
For more information or to sign up, call or e-mail the church at 717.766.4611 or office@fumchurch.com.