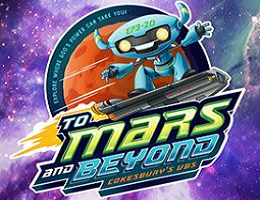 Blast off with the first VBS to land on the moon! To Mars and Beyond will help kids discover the wonders of God's universe. They'll become Voyagers on a journey through space, exploring where God's power can take them.
The dates are Monday to Friday, June 10 to 14, 2019, from 9 a.m. to noon daily.
All area children ages 4 through entering sixth grade are invited and encouraged to attend. Students entering seventh to 12th grades can volunteer as classroom helpers.
Daily lessons are supported with Bible stories, science activities, music, crafts, games and snacks. You do not have to be a member of First Church or any church to attend. There is a $5 registration fee per child. Need-based scholarships are available.
See this link for registration and volunteer information We look forward to explore where God's power can take you!