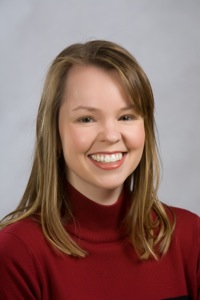 Favorite Bible Verse: Romans 12:12
I will let my heart keep me joyful, be patient in my troubles and pray at all times.
Allison Ometz's vocal and musical talents can be heard almost every Sunday morning at First Church. She, along with the Invocation Singers and Praise Band, leads the congregation in music before and during worship services.
Allison also provides music for Vacation Bible School. Allison also plays the piano, flute, world music (African style) drum, and is learning the guitar!
Allison describes herself as, "A highly energetic and enthusiastic individual who loves children, music, and the Lord."
Allison first felt called to Christ as a child. "I used to sit in the choir loft with my mom when I was growing up, singing along with the choir. In college, when I first heard praise music, my worship experience was transformed, and He's been slowly leading me on a path of praise ever since."
Allison is a music teacher at the Northern Middle School, where she instructs sixth, seventh, and eighth graders, directs the Middle School Choirs, and provides flute lessons.
Allison holds a degree in Music Education from Illinois Wesleyan University, and a Master's Degree in the same from Duquesne University.
Allison has been on staff since 1999, and a member of First Church since 2002.
Allison and her husband, Derrick, are parents of two youth-aged children.
Allison's Vision for the Music Ministry
Complete acceptance of the praise music from all the people in God's family. God has given us contemporary praise music as another way to reach believers and non-believers. He uses the music, which contains His Holy Word, to teach and transform us into his likeness, as he has done with hymns for many years.