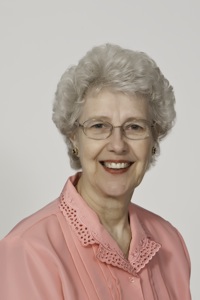 Favorite Bible Verse: Isaiah 41:10
Fear not; for I am with you, be not afraid for I am your God. I will strengthen you and will help you. I will uphold you with the right hand of my righteousness.
Gail Leinhos is the director of the Sounds of Worship choir, the assistant organist at FUMC, and has been serving as the accompanist for the children's and youth choirs and the Women of Light chorale ensemble since joining First Church in 2006.
Gail first felt called to Christ at the tender age of 10, while attending Seaview Baptist Church in Linwood, NJ. "It was a natural progression coming from a Christian family, Gail said. "I was very active in my church."
Gail, an accomplished organist and pianist, has an extensive career in music. She began as the organist and a choir director for Seaview Baptist Church, where she served for 20 years. She later served congregations in Somers Point, Linwood and Avalon, NJ, and Little Compton and Middletown, RI, as an organist, choir director and music coordinator. Most recently, Gail was the Director of Music for Ocala West United Methodist Church in Florida.
Gail also has a background in education. She served as a teacher's assistant for schools and preschools in Rhode Island and New Jersey, working with both regular education and special needs students.
Gail attended Eastern College in St. Davids, Pa., for two years.
Gail and her husband, David, are parents to six grown children and ten grandchildren.
Gail's Vision for the Music Ministry
My vision for the music ministry is to bring people closer to God through music.