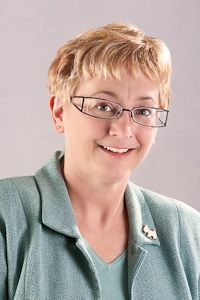 Favorite Bible Verse: Psalms 4
You put joy into my heart more than when grain and wine abound.
Jody Brinley serves as the Senior Music Director and Sanctuary Choir Director for First United Methodist Church. As such, she coordinates and oversees the church's entire music program, which includes children's, adult, bell and other special choirs. The choirs provide music during Sunday services, and for special services such as Christmas Eve, Maundy Thursday and Good Friday.
Jody joined the staff of First Church in September 2009.
Jody does not recall a specific moment when she was called to Christ. "I've always felt His presence in my life," Jody said. "Certainly as I've grown and matured, the joy I feel from singing and listening to the music of today's church has enriched me beyond measure."
Jody was a frequent performer with Theatre Harrisburg, and has lent her voice as a soloist for various functions. In the past, she served as a board member and performer with The Wednesday Club of Harrisburg, the Harrisburg Civic Opera and Oyster Mill Playhouse.
Jody formerly served as the Music Director at Grace United Methodist Church in Lemoyne. At various times, she directed the Children's, Youth and Adult Choirs, as well as the Handbell and Youth Handbell Choirs. Previous to that, Jody was a Choir Director for St. Paul's Lutheran Church in Dillsburg.
In addition to her duties at First Church, Jody works as a paralegal for McNees, Wallace & Nurick law firm in Harrisburg, where she has over 35 years of service.
In her free time, Jody breeds and shows West Highland White Terriers. "They are my kids," Jody said. "Currently, I have Hatteras, Montgomery, and Philadelphia at home."
Jody has a degree in music education from Penn State University.
Jody's Vision for the Music Ministry
To spread the joy of music, and let the joy that is Christ spring forth from inside us through the music we share.