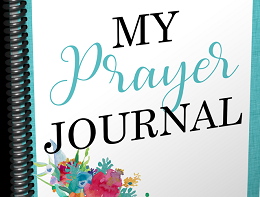 On Jan. 1, First Church began the "Be One, Make One" Bible reading challenge for 2018.
During Lent, our focus will be on becoming Praying Followers who faithfully listen in order to discern God's will and respond to God in prayer every day.
We encourage you to keep a prayer journal this Lent! A journal can be a valuable tool in understanding God's word, and recording your prayers, Bible study reflections, and verses that have special meaning to you.
Here are three reasons that will inspire you to grab a Bible Study & Prayer Journal from the Be One, Make One display in the main lobby and get started!
1. LEARNING TO DO SOMETHING NEW IS EXCITING!
God created us to learn new things. Each time we learn to do something new, our brain makes new connections. These new connections energize us!
2. SLOWING DOWN TO WRITE WHILE MEDITATING ON GOD'S WORD AND PRAYING IS ENJOYABLE!
In this fast-paced world, pausing to listen to what God is speaking to us can be tough. Writing helps us to slow down, focus and enjoy the moment.
3. CREATING A RECORD OF WHAT GOD IS SPEAKING TO YOUR HEART HELPS YOU TO REMEMBER WHAT YOU STUDIED AND PRAYED!
It's wonderful to have a record to reflect back on to recall what you have learned and who you have been praying for. It's also a beautiful way to glorify God with your writing!