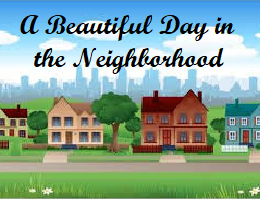 Have you ever had a friend who changed your life?
In the recent movie A Beautiful Day in the Neighborhood, TV legend Fred Rogers helps a skeptical friend overcome great emotional pain by showing kindness, listening to his story, and encouraging him to forgive. Mister Rogers accepts his friend as a child of God, and reminds us that every day we have opportunities to love our neighbors.
In May, the pastors of First Church will present a new sermon series based on messages from the beloved children's television series, Mister Rogers' Neighborhood. The sermons invite us to express our feelings, to know that we are loved and accepted, and to practice kindness, gratitude, forgiveness, and love for our neighbors:
Sunday, May 3                       "Feelings Are Okay" (Luke 7:36-50)
"There is no normal life that is free from pain … There are many ways you can deal with pain without hurting yourself or others. You can pound a lump of clay, or swim as fast as you can, or play the lowest keys on the piano all at the same time." Click here to view the Sermon.

Sunday, May 10                     "Prodigal" (Luke 15:11-32)
"I've never met anyone like you before. I don't believe you are broken. … I know you are a man of conviction, a person who knows the difference between what is wrong and what is right. Try to remember the relationship with your father also helped to shape those parts. He helped you become what you are." Click here to view the Sermon.
Sunday, May 17                     "Anything Mentionable Is Manageable" (John 14)
"Death is something many of us are uncomfortable speaking about. But to die is to be human. And anything human is mentionable. Anything mentionable is manageable."  Click here to view the Sermon.
Sunday, May 24                     "Forgiveness and Reconciliation" (Matthew 18:21-35)
"… Think about all the people who loved us into being. They will come to you." Click here to view the Sermon.

Sunday, May 31                     "Practice, Practice, Practice" (Galatians 5:22-26)
"There's no person in the whole world like you. I like you just the way you are."