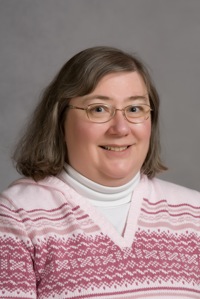 Favorite Bible Verse: John 3:16
"For God so loved the world, He gave us His only begotten son. Whoever believeth in him shall not perish but have everlasting life."
As Finance Director for First United Methodist Church, Nancy Robinson oversees all of the church's financial operations. This includes recording deposits, writing checks, preparing payroll, preparing financial statements, and assisting in the church's annual budget process.
Nancy has been an active servant of Christ since childhood. "I was raised by parents who were active in the church," Nancy said. "This modeling by them led me to be active."
She has served in numerous capacities to include teaching Sunday School and Bible School, chaperoning youth trips, serving on various committees, singing in the choir and playing in the bell choir.
In the past, Nancy attended a mission trip with the First Church Youth Group to South Carolina. She also attended a mission trip with Camp Hill Presbyterian Church to Maine, where she helped replace and repair roofs on the homes of low-income residents.
In addition to her duties at First Church, Nancy serves as the bookkeeper for Advanced Kitchen and Bath. She also performs general accounting work for Lee Cavanaugh, CPA.
Nancy has a degree in Accounting from Lycoming College.
Nancy has been on staff since 1996, and a member of First Church since 1991.
Nancy and her husband, Alan, are parents to three children.