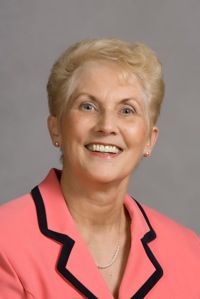 Favorite Bible Verse: Philippians 4:13
I can do all things through Christ who strengthens me.
Flossie Ryder directs several First Church choirs. In addition to two children's choirs, the Wee Singers (ages 4 and 5) and Sunbeams (first and second grade), Flossie directs the Sounds of Worship Adult Choir and the Women of Light special ensemble. Flossie also serves as the music teacher for the Little Friends Nursery School at First Church.
"It is awesome and sometimes challenging as different musical talents merge to serve the Lord," Flossie said.
Music has always been a part of Flossie's life. She grew up in a musical family. "But, my first 'tug' was to nursing," Flossie said. She attended nursing school after high school and had a long and successful career in nursing. Flossie's nursing career began in 1963 and spanned more than 25 years, during which time she served in several positions with private practices and hospitals. She also worked as a medical claims analyst for Pennsylvania Blue Shield, and as an adjunct teacher for the Central Penn Business College.
About 20 years ago, while attending the Camp Hill United Methodist Church, Flossie felt another tug, this time to form and direct a Christian gospel music group. "I sang in a choir, but I was hesitant to direct one because I don't have a degree in music," Flossie said. "I questioned if I could do it, but God said, 'You can.'" So, Flossie formed the Heralds of Harmony, a small group that performed gospel music for local nursing homes and other community events for 11 years.
Then, in 1995, Flossie and her husband began attending First Church. Again, Flossie felt another calling to serve the Lord through music. "But, this time it was more of a shove," jokes Flossie. Just months after joining the church, she was hired as a choir director and has been on staff ever since.
In addition to her work at First Church, Flossie teaches private piano lessons.
Flossie is a graduate of the Bryn Mawr Hospital School of Nursing in Bryn Mawr, Pa. She and her husband, Charlie, have five grown children and seven grandchildren.
Flossie's Vision for the Music Ministry at First Church
To bring joy through music to members of the choir and congregation at First United Methodist Church. So many things can be reinforced through the words and music of Christian writers.