F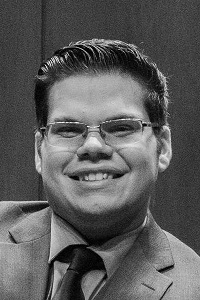 avorite Bible Verse: Romans 8:38-39
"For I am convinced that neither death nor life, neither angels nor demons, neither the present nor the future, nor any powers, neither height nor depth, nor anything else in all creation, will be able to separate us from the love of God that is in Christ Jesus our Lord."
Frank Heberlig provides beautiful organ and keyboard music during the early worship service at First Church, and accompanies the Sanctuary Choir and guest soloists at both services.
Frank first felt the call to serve Christ at the age of 14, while attending Camp Joy El in Greencastle. "I felt the Lord come down upon me, and call me to serve Him and others," he said. "That calling then translated into my music. I began playing for my home church and people would tell me that the Lord was working through me." Frank continued to worship and serve, both at church and as a staff member at church camp.
Frank joined the staff of First Church in 2018.
Frank shared his musical talent as a member of the pit orchestra for musical productions of Children of Eden, The Secret Garden, Oklahoma! and West Side Story at Spring Grove High School and Messiah College.
Frank will graduate from Messiah College in May with a degree in music education, with particular instruction in solo piano, solo organ, and instrumental conducting. While attending Messiah, he was a member of the Handbell Ensemble, the Concert Choir and accompanied several soloists and ensembles.
Frank has provided piano and organ music for several local churches throughout his short career to date. Additionally, he gives private piano lessons.
"I serve God with my gifts of music," Frank said. "I believe that no matter what I do and wherever I end up, I will always be serving God in a church environment."