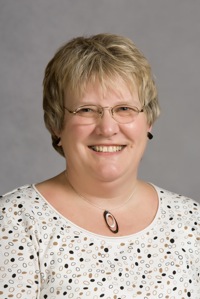 Favorite Bible Verse: Philippians 4:13
I can do all things through Christ who strengthens me.
Kathie Bittenbender has been a member of First Church since 1979 and was hired as the First Church Handbell Choir Director in 1989, where she was in charge of only one choir. Under her leadership, that number has grown to three choirs. In addition, Kathie founded our church's handchime program for children, a program so successful that is has grown to three groups. The handbell and handchime choirs provide music for worship during Sunday services.
Kathie first felt called to Christ while attending Malaga Church Camp in South Jersey. She then spent her high school years singing in a touring choir from that camp. She also played organ and directed the junior choir for a church. Kathie continued her love of music by earning a degree in Music Education from Lebanon Valley College, and has taken courses in handbell education at West Chester University.
In addition to being part of the First Church staff, Kathie taught music in Willingboro, New Jersey, and then in the Cumberland Valley School District at Good Hope Middle School and later Middlesex Elementary School. She retired from teaching in 2004.
However, being retired does not mean being inactive! Kathie serves as the coordinator of the Holy Grounds Campaign to raise money for church camps in the Central Pennsylvania Conference of The United Methodist Church. She also volunteers in the First Church office at least once a week, and she has directed the Ecumenical Choir two times. This choir, formed from singers from nearly 35 local churches, performs an annual concert to benefit New Hope Ministries.
Kathie and her husband, Bob are parents to four grown children and five grandchildren.
Kathie's Vision for the Handbell Ministry
I pray the handbell choirs "speak" to our congregation each time we play. We have become a tight-knit, small group within our church, supporting each other in many ways. I can only hope we continue to do such.