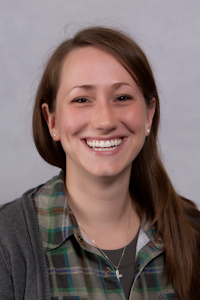 Favorite Bible Verse: Isaiah 55:10-11
As the rain and the snow come down from heaven and do not return to it without watering the earth and making it bud and flourish, so that it yields seed for the sower and bread for the eater, so is my word that goes out from my mouth; It will not return to me empty, but will accomplish what I desire and achieve the purpose for which I sent it.
Lisa Aronson serves as the Director of Youth Ministries for First United Methodist Church. First Church has a very active youth ministry for students in seventh to 12th grades. In addition to regular meetings, the youth routinely participate in community service projects, mission trips, weekend retreats, and other spiritually-enhancing events. Lisa is responsible for overseeing First Church's youth ministry, in partnership with many adult volunteers.
Lisa joined the staff of First Church in February 2010.
Lisa first felt the call to serve the Lord in youth ministry after her first year of college. "I was pursuing an education in politics in hopes to help make positive change to our society," Lisa said. "That summer I was working with a local youth group and God challenged me to not change society, which will not last into eternity, but instead invest in those who will last into eternity and who can create change themselves." Lisa changed her major and began studying youth ministry.
Lisa's previous experience includes piloting and managing the Christian-based Café 222 at the West Essex Baptist Church in Livingston, NJ. Young adults could gather on weekends for food, drinks and live musical entertainment, as well as fun and fellowship in a safe, clean environment. "We wanted to provide an alternative to the typical bar scene, where people could come to hang out, and develop meaningful relationships with others," Lisa said.
Many young adults do not attend church, not because they don't believe in God but because of past hurts from their experiences in their faith communities, Lisa continued. Many who attended the café did so hesitantly, after a long absence from attending church. "But we were able to show them a different side of church, one that made them reconsider the possibility of attending again."
Lisa also served as an intern for Salt 'n' Light Ministries in Camp Hill, a ministry dedicated to helping youth reach other youth with the Gospel of Jesus Christ. She participated in drama, video and dance as mediums for ministry. Previous to that, Lisa was the project manager for a Professor of Youth Ministry at Messiah College. She developed and facilitated a large-scale survey on the effects of off-campus youth events in the lives of youth.
In addition, Lisa worked as a team leader for the Produce and Receiving Departments at Wegmanís Food Markets.
An accomplished athlete, Lisa successfully completed a marathon in 2006, and a triathlon in 2009.
Lisa has a degree in Christian Ministries, with a concentration in youth ministry, from Messiah College.
Lisa and her husband, John, reside in Mechanicsburg.
Lisa's Vision for the Youth Ministry
To come along side the youth here at First Church and walk with them and guide them as they seek to know, love, and follow the Lord.