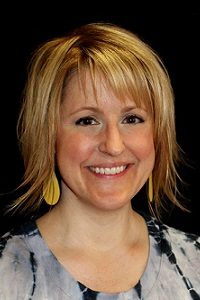 Maria Petrilak is the Director of the Little Friends Preschool operated by First United Methodist Church. She also serves as the Lead Teacher for the three-year-old class.
Little Friends is a non-profit, Christian-based preschool that offers classes for children from 18 months to pre-kindergarten. The school enrolls between 95 to 100 students per year.
Maria oversees all aspects of Little Friends to include a teaching staff of 14, enrollment, fund raising efforts and the day-to-day operations of the preschool.
"As a teacher, my job is to make sure that every child in my classroom feels safe, loved and appreciated as unique individuals with their own powerful voice," Maria said. "We dance, jump, giggle, act like animals, and do whatever we can to keep the kids engaged and the learning fun!"
Maria was no stranger to Little Friends. She joined the staff in 2014 as a substitute teacher, before taking over the three-year-old class.
An accomplished singer, Maria has a bachelor of arts degree in operatic performance from Duquesne University in Pittsburgh. She sang with the Pittsburgh Opera for six years.
Previously, Maria worked as a television producer, writer, and on-camera host for WITF public television in Harrisburg. She earned three Emmy nominations for her work on the shows HealthSmart and Explore PA: A Virtual Fieldtrip.
Maria also worked for the NBA (as in, the National Basketball Association) in New York City, in the Intellectual Property Department. While residing there, Maria served as an American Red Cross volunteer at Ground Zero after the September 11 terrorist attacks. For six months, she supported workers who sifted through the giant pile of rubble where the Twin Towers fell. Maria identified workers who needed medical, spiritual or emotional support, hosed off workers as they exited the rubble, and distributed boots to the workers throughout their shift. Workers frequently melted through their boots about every three hours.
"But, my favorite job I have ever had has been as the 3-year-old class teacher at Little Friends," Maria said. "I love seeing the kids' faces light up when they learn a new skill. I love when they begin moving from parallel play to cooperative play with their friends. And I love getting to be a kid even though I'm trapped in an adult body!"
Maria is an active community volunteer. Since 2015, she has served as Vice President of the Sporting Hill Elementary School PTO in the Cumberland Valley School District. She ran the Sporting Hill May Fair for four years, and remains active on the planning committee.
Along with her daughter, Maria volunteers for Project SHARE in Carlisle.
Previously, Maria served as Chair of the Harrisburg Young Professionals City Beautification Committee and was a member of the HYP Board of Directors.
Maria is the mother of one daughter, whom she calls "the love of her life."