Favorite Bible Verse: Colossians 1:17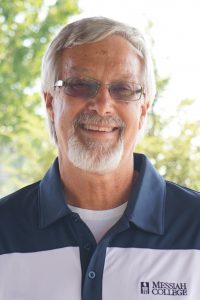 "Christ is before all things and in Him all things hold together."
Pastor John L. Shellenberger, Jr. joined the staff of First Church as Assistant Pastor in September 2017. Pastor John helps lead Sunday worship services, including the monthly Rejoicing Spirits service. He also conducts visitations to homebound, sick and other church members, assists the Senior Pastor in providing counseling to members as needed, and helps teach Sunday School and Bible studies.
Pastor John is a native of Greenville, South Carolina, but he spent much of his childhood in central Pennsylvania where his father, a United Methodist pastor, served.
Pastor John first answered the call to ministry while in high school. "My parents always prayed that each of us as children would respond to the Lord's leading in our own personal way. For me, that was into ordained ministry."
Pastor John recently retired from nearly 40 years of full-time ministry, most recently serving Grace UMC in Lemoyne. Throughout his career, Pastor John served the Mill Creek Parish UMC in Shady Grove, MD, Huntersville-Picture Rocks Parish, Duboistown – Nisbet United Methodist Parish, Trinity UMC in Hummelstown, New Hope Parish – Newburg, and First UMC in Carlisle.
Pastor John serves as a mentor for the Harrisburg District Board of Ordained Ministry. He recently served as cluster leader for the Lower West Shore Cluster in the Harrisburg District. Previously, Pastor John served on the Board of Ordained Ministry, and the Board of Church and Society.
Pastor John and his wife, Merri, have attended mission trips to Georgia, Alaska, Jamaica, Barbados, Mexico, Kentucky and Haiti. They also served with Salt 'n Light youth ministry, and for many years attended the Impact Youth Festival at the Greene Hills church camp. Pastor John began a summer soccer camp at Greene Hills, and served as dean of its inaugural session.
Pastor John earned a Bachelor of Arts degree in Religion from Messiah College, and a Master of Divinity from Wesley Theological Seminary. He is a graduate of Middleburg High School.
Pastor John has a certificate in the Ministry of Spiritual Direction through The Center of Spiritual Formation in Carlisle. He also completed the advanced "Tending the Fire" training through the Center.
Pastor John is an avid golfer and woodworker. He also enjoys cooking, writing, watching sports, and gardening, and has a Master Gardening Certificate from Penn State Extension. He and Merri love to travel and spend time with family.
Pastor John and Merri have three children and four grandchildren.