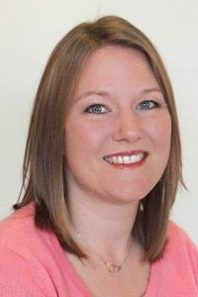 Favorite Bible Verse: Psalm 139:14
"I will praise you because I have been remarkably and wondrously made. Your works are wondrous, and I know this very well."
Anna Harris joined the staff of First Church in 2018 as the Co-Director of Children's Ministries. In partnership with adult volunteers and Co-Director Dawn Fisher, Anna helps to oversee all programming for children up to fifth grade. This includes Sunday School, Tweens Fellowship Group for fourth and fifth graders, Wonderful Wednesday family fellowship program, Vacation Bible School, the annual Passion Play, and other special events for children and families.
Anna, the daughter of a pastor, is no stranger to church. She first felt the call to serve Christ while just in kindergarten. She was inspired by missionaries who visited her school, and she wanted to live for Jesus as they did. "God used my upbringing to deepen my relationship with Him, and I have certainly needed that firm foundation in Christ when life has felt upside down!" Anna said.
As a young adult, Anna felt a more specific call to serve in children's ministry, which she has been passionate about ever since. "Children are a gift. They are entrusted to us and we have a responsibility to them to teach them truth and show them Jesus."
Anna and her family joined First Church in 2016. She fondly remembers her first visit, with a grumpy child in tow. A member of the church engaged her son in conversation, and that was all it took. Anna knew that if her children were welcome, she and her family had found a home.
Anna quickly got involved in the children's ministry at First Church. She also serves as co-coordinator for an on-site MOPS (Mothers of Preschoolers) program, as a member of the Worship Enrichment Committee and Worship Arts Committee, and as a volunteer for the annual Day of Pampering, which provides a day of rest for women who serve as primary caregivers to a family member with special needs.
Before moving to Mechanicsburg, Anna and her family were stationed in Sicily, Italy, for five years through her husband's work with the U.S. military. While there, Anna volunteered as a dental assistant through a Red Cross program on base, hosted cooking classes in her home for other women from the military base, and organized trips to explore the country. She also launched a business crafting handmade dolls, all from original patterns. She designed one special doll to donate to organizations that aided an influx of refugees to Italy at the time.
Previously, Anna worked as the Children's Ministry Coordinator for a church in Virginia Beach. She also has worked as an office and medical assistant for a pediatrician, periodontist and sleep apnea specialist, and for the Oncology/Hematology Department of a hospital.
An active volunteer throughout most of her adult life, Anna has served in numerous capacities. As a Christian mentor to young military moms, Anna led devotionals, mediated disagreements, and encouraged women in their relationship with God. She coordinated a young adult fellowship program at a church in Georgia while stationed there with her family.
Anna also has served as a Bible study leader and Cub Scout volunteer.
Anna is a graduate of Kempsville High School in Virginia Beach. Anna and her husband, Greg, are the parents of three children.