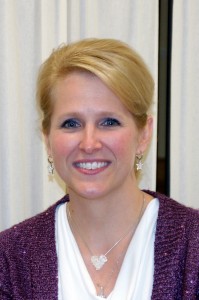 Favorite Bible Verse: Philippians 4:6-7
"Don't worry about anything. Instead, pray about everything. Tell God what you need, and thank Him for all he has done. Then you will experience God's peace which exceeds anything we can understand. His peace will guard your hearts and minds as you live in Christ Jesus."  
             As the Co-Director of Children's Ministries for First Church, Dawn Fisher helps to oversee all programming for children up to fifth grade. In partnership with adult volunteers and Co-Director George Canonizado, Dawn oversees the Sunday School program, Tweens Fellowship Group for fourth and fifth graders, Wonderful Wednesdays fellowship program, summer Vacation Bible School, annual Passion Play and other special events for children and families.
Dawn cannot remember a specific moment when she was called to Christ. She began attending as a child, and has fond memories.
"I want to create fond memories of First Church for kids," Dawn said. "If you do that, even if they wander away from church for part of their lives, eventually they will come back. They will remember how much they enjoyed church, and want their kids to have the same experience."
Previously, Dawn lived in Bloomsburg and worked for the Geisinger Medical Center as a nursing assistant, then for the Geisinger Health Plan as a customer service representative.
Dawn left Geisinger in 2010 to relocate with her husband to Mechanicsburg. Finding a new church was a top priority. At the invitation of one of Jason's co-workers, they decided to try First Church.
"From the first time we visited, it felt like home, like this is where we were supposed to be," Dawn said. They have been attending ever since.
Upon relocating to Mechanicsburg, Dawn took time off from the "paid workforce" to be a stay-at-home mom to her two daughters. She then joined the First Church staff in March 2014.
Dawn is an active community volunteer. She volunteers weekly at Mission Central in Mechanicsburg. Her primary responsibility is sorting and organizing materials donated by the community. She also assists in assembling disaster relief kits that are shipped locally, nationally and around the world as needed by the United Methodist Committee on Relief. Previously, Dawn served as a parent volunteer for the Mechanicsburg area School District. In addition to her staff duties at First Church, she continues to be involved with the Mary Circle of the United Methodist Women, and the Funeral Meal Committee.
Dawn is a graduate of Millville High School. She also attended the Pennsylvania College of Technology.
Dawn and her husband, Jason, are parents of two daughters.