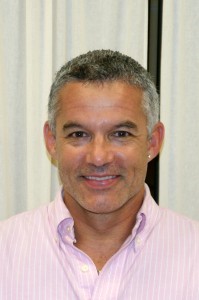 Favorite Bible Passage: Psalm 150
As the Co-Director of Children's Ministries for First Church, George Canonizado helps to oversee all programming for children up to fifth grade. In partnership with adult volunteers and Co-Director Dawn Fisher, George oversees the Sunday School program, Tweens Fellowship Group for fourth and fifth graders, Wonderful Wednesdays fellowship program, summer Vacation Bible School, annual Passion Play and other special events for children and families.
George fills a dual role on the First Church staff, serving additionally as Head Custodian since August 2011.
George joined First Church in 2005. He is a member of the church's Prayer Team, co-teaches a youth Sunday School class, and plays trumpet for the Invocation Choir during Sunday worship services. He is also a member of ACCESS Ministry, a group that works to provide intentional welcoming at First Church for the mentally and/or physically challenged.
George is active in the community as an Assistant Scoutmaster for a Boy Scout troop in Camp Hill.
Previously, George worked in the document management field for more than 20 years. He also worked in quality management in the printing industry.
George, a native of Rhode Island, is a graduate of Middletown High School in Middletown, Rhode Island.
George and his wife, Debbie, are the parents of a son and a daughter. v