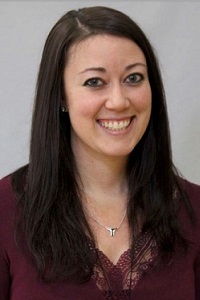 Favorite Bible Verse: Ephesians 2:8-10
"For it is by grace you have been saved, through faith – and this is not from yourselves, it is the gift of God – not by works, so that no one can boast. For we are God's handiwork, created in Christ Jesus to do good works, which God prepared in advance for us to do."
Sarah Pugh joined the staff of First Church in June 2019 as the Director of Worship Arts. In this newly-created position, Sarah works directly with the pastors, staff and other church members to plan and prepare all aspects of worship, both for Sunday morning and other services. Sarah oversees all music groups including the adult, children's, and bell choirs, adult and youth praise teams, and special ensembles. She also provides support to the sound, media, and lighting teams, and to those who participate in worship through drama, dance and other art forms.
Before answering God's call to serve, Sarah was a self-described "pew-sitter" at Middlesex United Methodist Church in Carlisle. "I could feel there was something stirring in me for a long time, but I never acted upon it until the worship leader recognized the gifts, talents, and calling in me," she said. "He just simply asked if I wanted to play and sing with them some Sunday morning." Sarah accepted the invitation, and became active as a worship leader. She later joined the church staff as Director of Music, a position she served in for more than six years.
Sarah additionally led the contemporary Sunday morning services, conducted the adult choir, assisted with music and drama for Vacation Bible School, served on the Worship Design Team, directed the youth in special music and dance, and volunteered with several outreach ministries.
Previously, Sarah worked as a School Age Child Care Coordinator with the West Shore YMCA in Camp Hill. In this position, she oversaw the organization's various child care programs. Sarah is also an American Red Cross lifeguard instructor, as well as a CPR/AED/First Aid instructor.
Sarah is a member of the Harrisburg Singers community choir, and has appeared on stage in several local theatre productions. Her other hobbies include kayaking, hiking, swimming, and watching baseball.
Sarah has a degree in music and vocal performance from Lebanon Valley College.