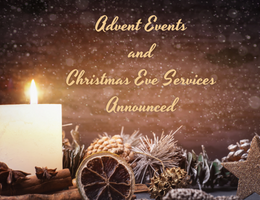 First Church invites the community to attend one or more of the special events and worship services we have planned for Advent and Christmas.
During Advent we will be offering in person, livestreamed and recorded services. The church will follow all appropriate safety measures and protocols for in-person events. Click here to view these measures.
Dec. 1  Joy to the World Daily Advent Readings begin.  Visit the website with the daily readings or you can pick up a free copy of the book at our church!
Dec. 5  Service of Remembrance and Hope 4:00 p.m. If you are grieving a loved one this holiday season, please join First Church for our annual Service of Remembrance and Hope on Sunday, Dec. 5 at 4:00 p.m.  The service will be held in-person following appropriate COVID-19 safety protocols. Additionally, a recording of the service will be available on the church website, fumchurch.com, after the service for those who prefer to view from home.
Dec. 11  Annual Youth Cookie Walk Fundraiser, multipurpose room, 9:00 to 11:00 a.m. or until cookies run out!
Dec. 12  Christmas Caroling 4:00 p.m. in the parking lot  (in the event of inclement weather, we will meet in the church sanctuary)
Dec. 24  Christmas Eve Worship Services at 5:00 and 10:00 p.m., in person and livestreamed!
5:00 p.m.      Family Services – includes worship band leading Christmas carols, special music,  reading of the Christmas story and candlelighting.  Children are invited and encouraged to attend the service along with their families.  Click here at or after 5:00 p.m. to view this service.
10:00 p.m.    Traditional Service – includes traditional Christmas carols, Christmas meditation, Holy Communion and candlelighting.  Click here at or after 10:00 p.m. to view this service.