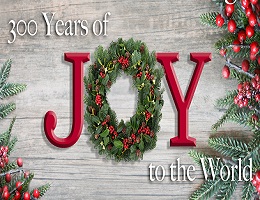 "Joy to the World," a beloved Christmas classic, turns 300 this year. Composer Isaac Watts wrote the words based on Psalm 98, calling us to sing a "new song" in celebration of the coming of the Lord into the world.
Join us for worship this December as we discover the depths of "joy" we proclaim whenever we sing these ancient words. As we "receive our King," we find joy in the midst of suffering, the work of justice, and the presence of compassion – a message the world so desperately needs.  Click here to view a trailer of this series.  Find the Daily Reading Plan here.
All are welcome and encouraged to attend!
Dec. 1 First Sunday of Advent Prepare Him Room: Hopeful Joy (with Holy Communion)
Isaiah 2:1-5, Romans 13:11-14
Dec. 8 Second Sunday of Advent Repeat the Sounding Joy: Loving Joy
Isaiah 11:1-10, Matthew 3:1-12
Dec. 15 Third Sunday of Advent Make the Blessings Known: Unabashed Joy
Isaiah 35:1-10, Luke 1:46b-55
Dec. 22 Fourth Sunday of Advent Make the Nations Prove: Peaceful Joy
Isaiah 7:13-15, Matthew 1:18-25
Dec. 24 Christmas Eve The Lord Is Come: Incarnate Joy
Isaiah 52:7-10, Luke 2:1-20
             Candlelight Services: 5 p.m. (Family) 8 p.m. (Informal) 11 p.m. (Traditional)
Dec. 29 First Sunday after Christmas Wonders of His Love: Compassionate Joy
Isaiah 63:7-9, Matthew 2:13-23