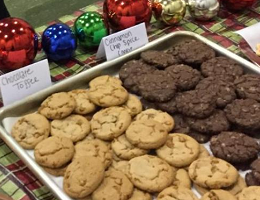 First Church is pleased to offer its popular Cookie Walk again this year!
Join us on Saturday, Dec. 11, in the multipurpose room from 9:00 to 11:00 a.m. or until the cookies sell out. Guests can select from a variety of homemade cookies baked and donated by church members. The cost is $12 for a full box or two boxes for $20. All proceeds benefit a youth mission trip to Alaska planned for next summer.
New procedures will be in place to ensure the safety of participants. Servers will be masked and gloved, and will assist in packaging the cookies. We will observe social distancing and invite guests to wear a mask while inside the building.