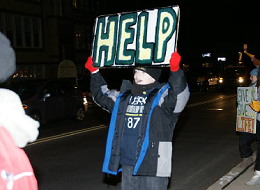 Members of the First Church and Mechanicsburg Brethren in Christ Youth Groups will hold their Annual Sleepout for the Homeless Friday to Saturday, Nov. 22 to 23.
Beginning at 4 p.m. on Friday, the church parking lot will be transformed into a community of boxes where several teenagers will spend the night.
The teens will accept donations from the community throughout the evening. All proceeds will benefit local agencies dedicated to helping those experiencing homelessness. Last year's event raised nearly $6,000.
In addition to money, the Sleepout is meant to raise awareness. Participants will get a small but firsthand taste of what it is like to be homeless, and hopefully develop a lifelong passion to help others.
For more information, call or e-mail the church office at 717.766.4611 or office@fumchurch.com.