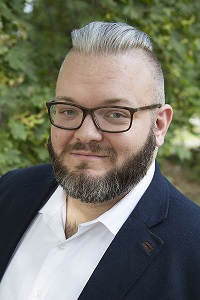 Favorite Bible Verse: Zephaniah 3:17
"The LORD your God is among you; He is mighty to save. He will rejoice over you with gladness; He will quiet you with His Love; He will rejoice over you with singing."
Caleb Flick provides beautiful organ and piano music for our in person, online, and special holiday worship services at First Church. He joined the staff of First Church in December 2019.
In addition to his work at First Church, Caleb works full time in music, dividing his time between performances, church work, and teaching. He has served Faith Immanuel Presbyterian Church in Harrisburg as Director of Musical Ministries since 2013 and recently accepted a short-term assignment as Temporary Director of Music at Camp Hill Presbyterian Church in September 2020.
Prior to receiving these calls, Caleb served congregations in Berks and Lebanon counties where he grew up. "I was raised in Zion of Iona United Methodist Church in rural Lebanon County," he said. "I have been involved in church music for as long as I can remember. I served as organist in two country churches beginning in high school, and I have never looked back."
Caleb holds a Bachelor of Arts in music from Lebanon Valley College with a concentration in piano. Caleb pursued extensive private studies following graduation. Most recently he was selected as one of 11 pianists internationally to receive a scholarship to attend and perform through the winter piano academy "Feuerwerk" based in northern Germany. To date he has given performances as a soloist, accompanist, and chamber musician throughout the region, on the East Coast, and in Germany, France, and Lithuania.