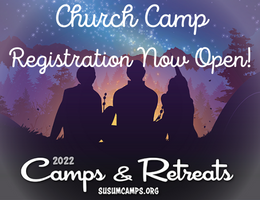 Registration is now open for summer camp, offered by The Susquehanna Conference Camp and Retreat Ministry of The United Methodist Church.
Church camp provides a fun and unique opportunity for children to grow in their faith journey while surrounded by the beauty of nature, away from the distractions of electronic devices and everyday life.
The Susquehanna Conference offers programs at five beautiful campgrounds throughout central Pennsylvania. Weekly sessions run from June 12 through Aug. 7, with a limited number of mini-sessions for children to attend with a parent, grandparent or other adult. Sessions in drama, the arts, and a variety of themes are available for students completing first through 12th grade this spring.
Enroll by May 1 and receive an Early Bird Discount. Sibling Discounts and special Invite-a-Friend Gifts also are available. In addition, First Church will cover half of the camp registration fee for our members who attend church camp!
All are welcome. You do not have to be a member of First Church or of any congregation to attend church camp.
Click
here
for more details and to register. To request a hard copy of the camp brochure, call or email the church office at 717.766.4611 or
office@fumchurch.com
.