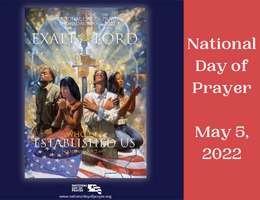 First Church will honor the National Day of Prayer on Thursday, May 5, with a gathering from noon to 1:00 p.m. in the sanctuary. The community is invited to attend or participate as able.
This year's theme, "Exalt the Lord Who Has Established Us," calls us to glorify and express our thankfulness to God. It is inspired by Colossians 2:6-7, "Therefore as you have received Christ, so walk in Him, having been firmly rooted and now being built up and established in your faith, just as you were instructed, and overflowing with gratitude."
The National Day of Prayer was created in 1952 and calls upon the citizens of our nation to come humbly before God, ask for His guidance to enlighten our leaders, and seek His grace for all people.
If you are unable to attend in person, First Church invites you to pray from your home or place of work. Prayer guides are available upon request by calling the church office at 717.766.4611 or emailing Tina Eaton, Director of Adult Ministry, at 
adultministry@fumchurch.com
.