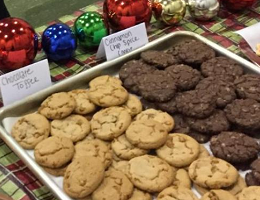 Love Christmas cookies but don't enjoy baking them? Attend the Cookie Walk at First Church on Saturday, Dec. 14, 2019, from 10 a.m. to 1 p.m., sponsored by the Youth Group.
For one price, attendees can fill a container with a variety of homemade holiday cookies. Nut-free and Gluten-free cookies available. Proceeds benefit youth mission projects.
For more information, call or e-mail the church at 717.766.4611 or office@fumchurch.com.