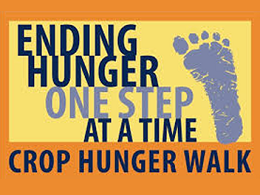 Multiple Mechanicsburg area churches will walk together to make a difference in our local community and in communities worldwide at the annual CROP Hunger Walk, Sunday, October 17, 2021.  The 5K Walk/Run kicks off at St. Mark's Lutheran Church, 117 W. Keller Street, Mechanicsburg at 1:00 p.m.  Members of the community are welcome to join this effort, which takes place rain or shine!  This year, the Mechanicsburg CROP Walk will be observing its 50th consecutive walk in the community!
The Mechanicsburg/West Shore CROP Walk is one of over 800 walks in communities across the United States to help end hunger one step at a time.  CROP Hunger Walks, which were birthed in York, PA, over 50 years ago, support the international relief and development work of Church World Service. Additionally, the Mechanicsburg/West Shore CROP Hunger Walk will support the efforts of New Hope Ministries and Mechanicsburg Meals on Wheels to eradicate hunger in our community.
CROP Hunger Walks are making a big difference worldwide, including ensuring that more children reach their 5th birthday, teaching sustainable ways to grow food and providing additional sources of food and income to families facing extreme challenges. We hope that you will join this effort to help end hunger!    Rev. William Sower, founder of the first CROP walk in York PA in 1969, will kick off the 50th Anniversary walk and he will be joined by the popular local mascot, Red Robin.